ARMERIA INTERNATIONAL DAY. Sharing internationalisation projects with our students.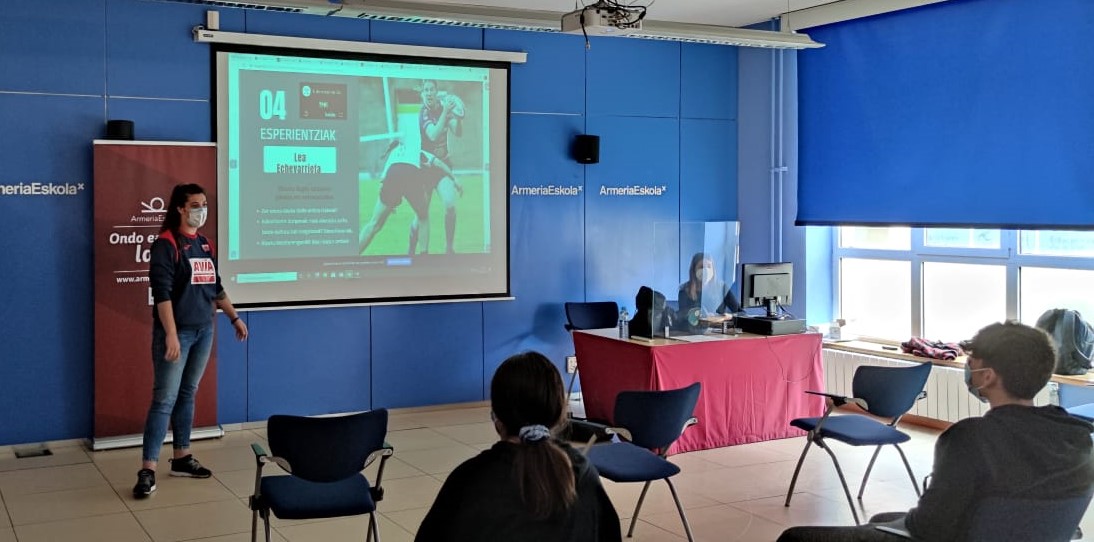 Last Friday, 7th May, we celebrated the Armeria International Day, with the aim of bringing the students closer to all the possibilities of internationalisation offered by our school. The day combined three objectives. On the one hand, it was an information day in which the students received detailed information about the new Erasmus+ programme, the Irasuegi stays, the collaboration projects and the international networks. They learned how all the information is organised in the new Internationalisation section of the school's website. It was pointed out that those interested can use the form on the website to apply for a grant.
On the other hand, our wish was to organise a motivational day. We wanted to show the students the benefits and advantages of living an experience outside their country and encourage them to live this experience next year. For this we had two special guests: Cristina Guntin, coach of the Eibar rugby team and Lea Echevarrieta, coach of the Eibar club and rugby player. Rugby has allowed them to travel and learn about other cultures, which has had a direct influence on their personal development and on improving their foreign language skills. Today there are six different nationalities in the Eibar rugby team, and they emphasised that this is very enriching. They brought us the video testimony of the New Zealand player Ti Tausosi, who encouraged us to travel and enjoy rugby.
Finally, we intended it to be a festive day. In fact, we have many reasons to celebrate: we have just launched the new Internationalisation section on the school website, where we explain that we have recently achieved two Erasmus accreditations: Erasmus Charter for Higher Education and Erasmus Vet Charter. These accreditations will guarantee us participation in the new Erasmus+ programme and funding for the next seven years. The European Day, which is celebrated every year on 9 May, reinforced the festive atmosphere.
Finally, we organised the Kahoot competition, where the three people who scored the most points in each team were awarded with a backpack full of European products.